Join our online talk & discussion on Wednesdays at 5:00 pm EDT --
here's the countdown:
This week's Speaker:

Mr. Peter Terry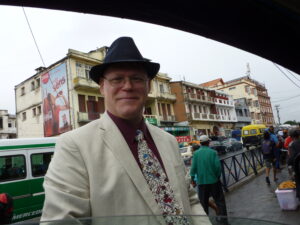 Mr. Peter Terry holds a BA in International Education, grades K-8, from the University of Massachusetts, and a Master's degree in Vocal Performance from the San Francisco Conservatory of Music.
He also started a Ph.D. program at the University of Chicago and a Bachelor of Music program at Oberlin College. His areas of specialized knowledge include pedagogical theory and practice; Western classical music; Jewish, Christian, Islamic, Babi, and Baha'i history, and scripture.
His published books include:
Proofs of the ProphetsCompanion to Proofs of the ProphetsProofs of the Prophets: Lord KrishnaProofs of the Prophets: The Case for Baha'u'llahIn His Own Words, An Autobiography of Baha'u'llahA Prophet in Modern TimesProofs for the Existence of God, vol. 2, Global Faith Book Series
 His published book chapters include: "Tahirih from Seyyed Ali Mohammed dit le Bab by A.L.M. Nicolas" in 
Tahirih in History: Perspectives On Qurratu'l-'Ayn From East And West, Studies in the Bábí and Bahá'í Religions, Volume 16
, edited by Sabir Afaqi and Jan Teofil Jasion"The Death and Burial of the Bab from Seyyed Ali Mohammed dit le Bab by A.L.M. Nicolas" in
A Most Noble Pattern
, Part II, Chapter I, edited by Todd Lawson and Omid Ghaemmagham "Essays on Shaykhism by A.L.M. Nicolas" in studies
in Baha'i Philosophy, vol. 1, Global Faith Book Series
"Compilation and Commentary on Baha'i Epistemology" in studies
 in Baha'i Epistemology, vol. 3, Global Faith Book Series Lights of 'Irfan
, Book 1 Additional papers and articles may be found online at 
academia.edu
, 
bahai-library.com
, 
bahaiteachings.org
, 
irfancolloquia.org/publications
---
After registering through the zoom link above, you will receive a confirmation email containing information about joining the meeting.
Please find an attached document with resources and additional reference materials for further deepening and study during this learning series –