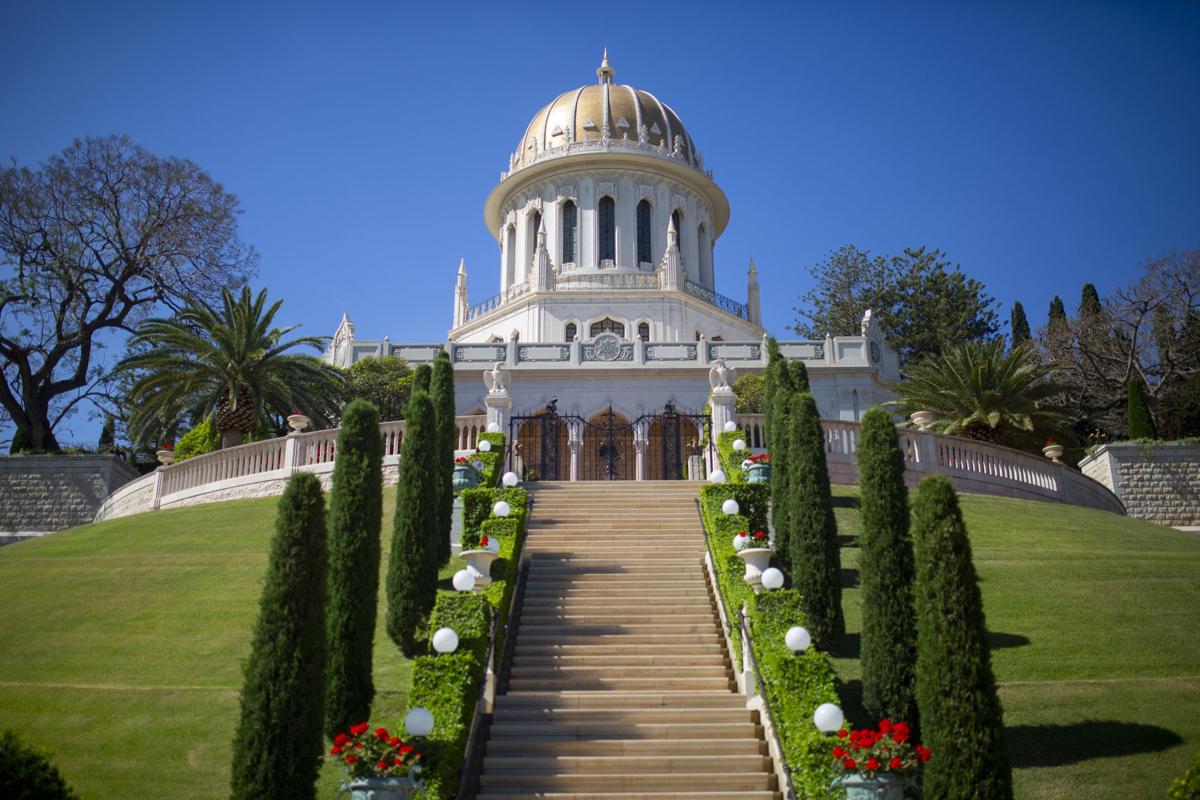 Not only does the fruit of the Bahá'í life inspire hope and strength, but also the rich harvest of the Bahá'í sacred Scriptures; words such as these from Bahá'u'lláh as inscribed on the Bahá'í House of Worship in Wilmette, Illinois:
The best beloved of all things in My sight is justice; turn not away therefrom if thou desirest Me.
My love is My stronghold; he that entereth therein is safe and secure. Breathe not the sins of others so long as thou art thyself a sinner.
Thy heart is My home; sanctify it for My descent.
I have made death a messenger of joy to thee. Wherefore dost thou grieve? Make mention of Me on My earth, that in My heaven I may remember thee. O rich ones on earth! The poor in your midst are My trust; guard ye My trust. All the prophets of God proclaim the same faith.
Religion is a radiant light and an impregnable stronghold.
Ye are the fruits of one tree, and the leaves of one branch.
So powerful is unity's light that it can illumine the whole earth. Consort with the followers of all religions with friendliness.
O Son of Being! Thou art My lamp and My light is in thee.
O Son of Being! Walk in My statutes for love of Me.
Thy Paradise is My love; thy heavenly home reunion with Me. The light of a good character surpasseth the light of the sun.141
The following passage, also from Bahá'u'lláh, further demonstrates the nature and the inspirational power of Bahá'í Scriptures:
O peoples of the world! Forsake all evil, hold fast that which is good. Strive to be shining examples unto all mankind, and true reminders of the virtues of God…Be united in counsel, be one in thought. Let each morn be better than its eve and each morrow richer than its yesterday. Man's merit lieth in service and virtue and not in the pageantry of wealth and riches…Dissipate not the wealth of your precious lives in the pursuit of evil and corrupt affection, nor let your endeavors be spent in promoting your personal interest. Be generous in your days of plenty, and be patient in the hour of loss…
O ye beloved of the Lord! Commit not that which defileth the limpid stream of love or destroyeth the sweet fragrance of friendship. By the righteousness of the Lord! Ye were created to show love one to another…Take pride not in love for yourselves but in love for your fellow-creatures. Glory not in love for your country, but in love for all mankind. Let your eye be chaste, your hand faithful, your tongue truthful and your heart enlightened.142
Love is the dominating theme in most of 'Abdu'l-Bahá's works. In the thousands of letters that He addressed to individual Bahá'ís who wrote Him, He repeatedly admonished them to arise to new heights of unconditional love for all humanity:
Love is heaven's kindly light…Love…is the living link that uniteth God with man…Love is the most great law…the supreme magnetic force…Love is the spirit of life…143
The essence of Bahá'u'lláh's Teaching is all-embracing love, for love includeth every excellence of humankind. It causeth every soul to go forward. It bestoweth on each one, for a heritage, immortal life.144
Soon will your swiftly-passing days be over, and the fame and riches, the comforts, the joys provided by this rubbish-heap, the world, will be gone without a trace. Summon ye, then, the people to God…Be ye loving fathers to the orphan, and a refuge to the helpless, and a treasury for the poor, and a cure for the ailing. Be ye the helpers of every victim of oppression, the patrons of the disadvantaged. Think ye at all times of rendering some service to every member of the human race. Pay ye no heed to aversion and rejection, to disdain, hostility, injustice; act ye in the opposite way. Be ye sincerely kind, not in appearance only. Let each one of God's loved ones center his attention on this: to be the Lord's mercy to man; to be the Lord's grace. Let him do some good to every person whose path he crosseth…In this way, the light of divine guidance will shine forth, and the blessings of God will cradle all mankind; for love is light, no matter in what abode it dwelleth; and hate is darkness, no matter where it may make its nest.145
Let all your striving be for this, to become the source of life and immortality, and peace and comfort and joy, to every human soul, whether one known to you or a stranger, one opposed to you or on your side. Look ye not upon the purity or impurity of his nature; look ye upon the all-embracing mercy of the Lord…It behoveth the loved ones of the Lord to be the signs and tokens of His universal mercy…Like the sun, let them cast their rays upon garden and rubbish heap alike, and even as clouds in spring, let them shed down their rain upon flower and thorn. Let them seek but love and faithfulness, let them not follow the ways of unkindness, let their talk be confined to the secrets of friendship and of peace. Such are the attributes of the righteous…146
Who are we that we should judge? How shall we know who, in the sight of God, is the most upright man? God's thoughts are not like our thoughts! How many men who have seemed saint-like to their friends have fallen into the greatest humiliation. Think of Judas Iscariot; he began well, but remember his end! On the other hand, Paul, the Apostle, was in his early life an enemy of Christ, whilst later he became His most faithful servant. How then can we flatter ourselves and despise others?
Let us therefore be humble, without prejudices, preferring others' good to our own! Let us never say, 'I am a believer but he is an infidel,' 'I am near to God, whilst he is an outcast.' We can never know what will be the final judgment!147
Verily, it is better a thousand times for a man to die than to continue living without virtue.148